2nd Annual
Orange 4 Owen

Memorial
Golf Tournament
June 8, 2013
Fairview Golf Course
Lebanon, PA
1:30 pm shotgun start
Forms below are for participation for golfers, attendees for dinner only, and sponsorship opportunities.
If you would like to donate to our tournament please contact us @ orange4owen@comcast.net
Tentative Schedule:
12:00 pm - 1:00 pm Golfer Check-in (Range Open)
1:15 pm - Rules of the day
1:30 pm - Shot gun start
2:30 pm - 6:30 pm - Bounce House
3:00 pm - 5:00 pm - Game Truck
4:00 pm - 7:00 pm - ExPress Photo Booth
6:00 pm - Dinner (Tentative)
6:30 pm - Auction and Raffle Drawings
Buffet Dinner Menu
Fruit Tray, Cheese & Cracker Tray
Garden Salad
Rolls/Butter
Yellow Corn
Vegetable Medley
Whipped Potatoes
Creamy Macaroni & Cheese
Chicken Piccata
Sliced Roast Beef with Mushroom Gravey
Dessert Bar Assortment "no peanut/tree nut products"
Iced Tea, Lemonade, Coffee, Pepsi fountain products including ORANGE soda
Beer and Wines
Special Thanks to our Sponsors!
Photo Album Gallery Place Holder - Please wait while the Photo Album loads. If the album does not show, please refresh the page to try again.
Photo Album Gallery Place Holder - Please wait while the Photo Album loads. If the album does not show, please refresh the page to try again.
Photo Album Gallery Place Holder - Please wait while the Photo Album loads. If the album does not show, please refresh the page to try again.
Sponsors
Silver
Dazzle U Allstars
Ted's Bar and Grill
PAC Industries
Underdog Sports Bar & Grill
Tim Wagner/State Farm
Advanced Hoops Training Programs
Knights of Columbus Holy Rosary Council 869
The DeLano Family
Lio's Pizza & Sub Shop
Adam's Financial Partners
Harrisburg Brazilian Jiu-Jitsu & Judo
EP Sports
Express Photo Booth
Brownstone Dermatology Associates
GFWC Cumberland Valley Pups
Richard Nye III Electrical Contractor, Inc.
Leanie Hunt
GQ's Barber Shop
Bradford Village Beer & Soda
Express Photo Booth
Hornung's Family Home Center
Dively Woodworks Custom Cabinets
Tully for Judge
Bronze
Brenda, Gary, Justin and Larissa Nichols
The Massini Family
Michael Bonaduce
Gina Douty, Tina Sardano & Families
Atlantis Salon, Inc.
Minium & Kearns Orthodontist
The Law Office of Gary L. Rothschild
The Faiola Family
The Brezitski Family
Edible Arrangements of Lebanon
CPBOA
The Keane Family
The Law Office of Gary L. Rothschild
Starsinic Appraisal Service
The Stutzman Family
PHR Baseball
The Molitoris Family
Donations
"Duck Dynasty" Items:
The Sarge Duck Call Signed by Si, Jase and John
The Duck Dynasty Hat Signed by Si, Jase, Jep, Justin, Willie, Phil and John
Duck Dynasty DVD Season 2, Volume I signed by Willie, Phil, Jase and Si
The Duck Picker Duck Call (orange) signed by Willie, Phil, Jase and Si
DD Visor
T-shirt
Willie Robertson Bobblehead
Phil Robertson Bobblehead
Tea Glass plus Duck Call
Bucknell University
Harrisburg City Islander Tickets
Harrisburg Heat Tickets
Sam's Club Gift Card
Harrisburg Senators
Royer's Flowers Gift Card
Gullifty's Gift Cards
R&K Subs
Snappers Gift Cards
Costco Gift Card
DigiPlex Movie Tickets
Bon Ton Haircuts
Underdog Gift Cards
Cold Stone Gift Cards
Aroogas Gift Cards
Handmade Jillry
Silent Auction Items
Taylor Made Orange Golf Bag and Hat
Duck Dynasty 1: Phil Bobble Head, Signed Green Duck Call & Signed DVD
Duck Dynasty 2: Willie Bobble Head, Signed Orange Duck Call & Signed Hat
4 Philadelphia Flyers Tickets
with possibility
Rachael Ray Cookbook & Orange Filled
Garden Basket: $20 Ashcombe Gift Card, Planters,
Seeds, Wind Chime, Gloves and More!
Date Night Basket: Assorted Restaurant
Picture Perfect Basket: Orange Olympus Camera,
Zip Drive, $25 Michaels Gift Card
Sports Night Out: 4 Hershey Bears Tickets, $50 Aroogas Gift Card & Coors Light Washer Game
Summer Fun Tote with 4 HersheyPark Tickets
The Cool Cooler: Wine, Glasses, Dip & More!
Car Care Kit: Assorted Car Care Products
Clinique Basket: Happy Perfume, Body Wash,
Harrisburg Senators Package: Team Autographed Jersey, 4 Box Seat Vouchers, Hat and More
HersheyPark Package: 4 HersheyPark Day Tickets & Assortment of Hershey's Candy
Wilt Chamberlain 100 Point Celebration:
Articles, Piece of HersheyPark Floor and More in Framing
Photo Album Gallery Place Holder - Please wait while the Photo Album loads. If the album does not show, please refresh the page to try again.
Water Balloon Canister, Sand Water Mill, Watering Can, Seaplane, 2 Jump Ropes, 2 Skip and Splash Balls, Mini Boat, Scoop, Mini Wind-up Duck, Pail and Shovel, Aqua Splash, 2 Frisbees, Bubble Blower, Sidewalk Chalk, Scented Bubbles, Scoop and Score, Badminton Set, Wheeled Bucket and Nerf Super Soaker.
Apple Sauce, Pie Filling, Spiced Apple Rings, Set of Plastic Cups, Bowls, Plates, Set of Chip Clips, Solid Turner, Slotted Turner, Slotted Spoon and Six Pack of Plastic Tumblers.
3. "Lebanon Valley College Basket"
Hat, 2 Drink Cozies, Large T-shirt, Water Bottle, 2 Dot Phone Buttons, Mini Note Pads and Pens, Mug, Pack of 3 Golf Balls, Insulated Cup, Reusable Grocery Bag and Draw String Bag.
4. "Casserole Set & Case"
Temp-Tations Presentable Ovenware in Spice.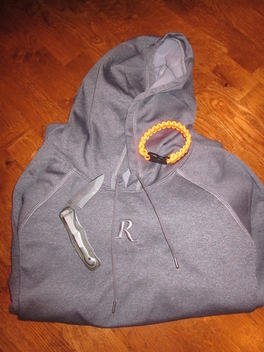 5. "Remington Package"
Knife, XL Hoodie and Orange Cord Bracelet.
Golf Bag, Cooler and XL T-shirt.
Snow Cone Maker, Cotton Candy Flavoring, Tropical Punch Flavoring, Package of Snow Cone Cups and Straws, 5 Free Milkshakes at McDonalds, $10 Cold Stone Creamery Gift Card and 6 Skating Passes for Twin Ponds.
Mini Football, T-shirt, Duct Tape, Frisbee, Mini Basketball, Yo-Yo, Water Bottle, Powerade, Tic Tacs, Gum, Spikey Ball, Silly String, Glow Stick, Mini LED Lantern, Mini Fan, Flashlight Carabiner, Chalkboard, Chalk, Hot Wheels Car and Puppet Kit.
Chocolate Pound Cake Mix, Beer Bread Mix, Macaroon Bar Mix, Potato Cheddar Soup Mix, Vanilla Bean Chiller Drink Mix, Pomegranate Chipotle Sauce and Garlic Garlic Seasoning Blend.
XL "Happy, Happy, Happy" T-shirt, Duck Commander Visor, Orange Duck Tape, Si's Cup & Call Combo and Orange Cord Bracelet.
Plastic Popcorn Tub, 4 Plastic Single Serve Containers, 2L Orange Crush Soda, Sour Patch Kids Candy, Pringles Chips, Skittles, Microwave Popcorn, Twizzlers and "Happy Gilmore" DVD.
Stow & Go Studio, Model Magic, Color Explosion, Pip-Squeaks Colored Pencils, Easy-Grip Crayons, 6 Pack of Large Crayons, Orange Pinwheel, Dry-Erase Fun and Letters, Disney Princess Coloring Book, Disney Princess Story Studio and Color Wonder 17 ft. Paper Roll with Markers.
$25 Dressbarn Gift Card, Mary Kay Sunscreen SPF 30, Mary Kay After Sun Replenishing Gel, Mary Kay Lip Protector Sunscreen and Dressbarn Coupons.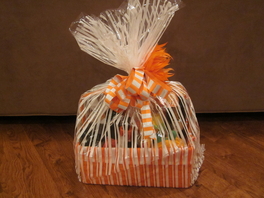 4 Nail Polishes, Face Powder, Muck After Shave Conditioner, Musk Deodorant, Musk Cologne Spray, Lipstick, Lip Gloss, Eye Shadow, 2 Foot Works Cooling Lotions, Foot Works Exfoliating Scrub, Foot Works Cooling Spray, Kids Comb and Hairbrush Set, Kids Scrub, Kids Body Wash and Bubble Bath, 3 Shower Gels, 2 Body Sprays, Bubble Bath, Hand & Body Lotion, Orange Manicure Kit, Watch and a Votive Candle.
1/2 lb. One Good Woman Blend Coffee, 1/2 lb. Orange Supreme Coffee, 2 Coffee Mugs, 3 One Ounce Bags of Different Orange Blend Loose Teas, Jar of Orange Chocolate Sauce, Tea Measure Scoop and Loose Tea Emersion Ball.
CAT Dump Truck Toy, CAT Evacuator Toy, 2XL T-shirt, CAT Bag, Organizer, Large Hoodie, Insulated Coffee Mug, Impact Gloves, Tote Bag, Notebook, 6 Paris of Socks, Hat and Car CAT Vanity Plate.
Certificate for one small flower ring or $25 and a Cerficate for one heart or $40.
18. "Harrisburg Senators Package"
4 Dugout Box Seat Tickets for Saturday, June 22, 2013 at 7:00 pm, Baseball Hat and 2 Rascal Bowls.